A Taste of Freedom
In France we've got what's called a CDI, which is a permanent work contract. In such a difficult economic context, it is seen as the Holy Grail, providing their holders with security of employment.
Not being stressed out, carrying no responsibilities, having no constraints, being able to meet with friends anytime, anywhere, benefiting from having the freedom to do what we like, including relaxing, this is what I call a VDI.
VDI stands for Vacances à Durée Indéterminée, which translates to Open-Ended Holidays. It has been my status for the last 6 months already, and needless to say that it has been great.
But it's now time to move on, to go for the real deal. I've decided to add a glimpse of adventure to my dear VDI. Here I am, now starting an unrestricted trip to Latin America!
Paris
But first things first. Living in the South of France, Paris was the first stop on my way.
Paris and I have always been into a love–hate relationship.
When I was a kid, I always thought that the weather forecasts were just lies. I still kinda believe that but back then I couldn't get myself around the fact that they consistently predicted either a cloudy or a rainy weather in Paris when it was mostly sunny in the South. How could these people possibly endure living without the sun for so long, right?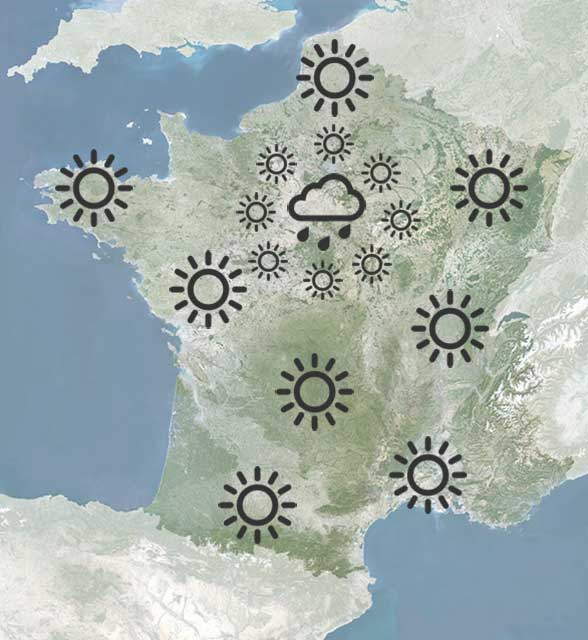 Then I started to work there for 2 months. Trying to find my way in the streets of Paris with my hugely and heavily unoptimized backpack lacerating my shoulders wasn't enough, I also had to be welcomed with a cold rain that soaked me up within minutes.
I didn't see any single pixel of blue sky during my first week, let alone the sun rays. When I finally met with the sun again, I got blinded by the intense ambient luminosity, I just couldn't stand all that natural light anymore. Fortunately it only lasted for 15 minutes.
Not only the sky was grey but the city itself with its buildings felt quite colorless too. Even its inhabitants were dressed in a shade of grey, like if they were enjoying themselves in this moody and monotone atmosphere.
It hit the nail on the head when a pizza maker one day told me that I didn't seem to come from Paris. I was surprised, how could he possibly figure this out? I don't have that much of a pronounced Southerner accent, nor was I wearing anything that could betray me, so I asked the man. His answer? Well, you're smiling! Alright... I had failed the Parisian test.
All in all, I've first seen Paris like a very noisy, confined, polluted and oppressing city with no much space for nature, and where their inhabitants looked like a bunch of soulless zombies living solely for their work.
For the city known as the most romantic city in the world, I surely was disappointed. It all looked too cold. Cold and grey.
But I based that judgement on day time only. I then realized that by night, Paris and its people are a whole different beast.
The city paradoxically becomes quieter but more alive. The show starts with an unecological but beautiful set of lights illuminating those Haussmanian buildings and other monuments, while the inhabitant's souls seem to be regaining possession of their bodies.[1]
With their stressful work behind, Parisians go out to enjoy the innumerable local bands, restaurants and bars available to them. The choice of food is large and potentially good but expensive.[2] Even the simplest cocktail can get sometimes ridiculously expensive but it doesn't matter anymore. Life is good again.
A trip in the city with the Velib'—the self–service bike system— finished to convince me of that chilled and magical ambiance of Paris by night. Such a pleasure for the eyes.
Toronto
I knew that Paris wouldn't be cold enough to my liking so I thought Why not visiting a friend in Toronto and see a bit of Canada for the first time?
Having never experienced negative temperatures before, I wasn't sure if neither my gear nor my body would pass the test. But it didn't go toooo bad.
With my layered approach—long sleeve merino base layer, merino t–shirt, merino long sleeve light vest, ultralight down feather jacket, and Gore–Tex hard shell jacket!—, I've proudly managed to survive to a temperature of -10°C that apparently felt like -16°C with the extra wind. Of course my merino underwear also helped.
But still, it was freezing cold. So cold that we had to adopt a walk'n'hide strategy. We regularly interrupted our outdoors walks to find refuge in shops or public transports to allow us to unfreeze and build a bit of heat before stepping back outside again.
And it wasn't even winter at its best.
Temperatures aside, in the short 4 days that I've spent there, I found the city to be heartwarming. Maybe is it partly due to the Poutine dishes burrowed from their neighbors in Quebec, but mostly everyone seemed to be kind and friendly.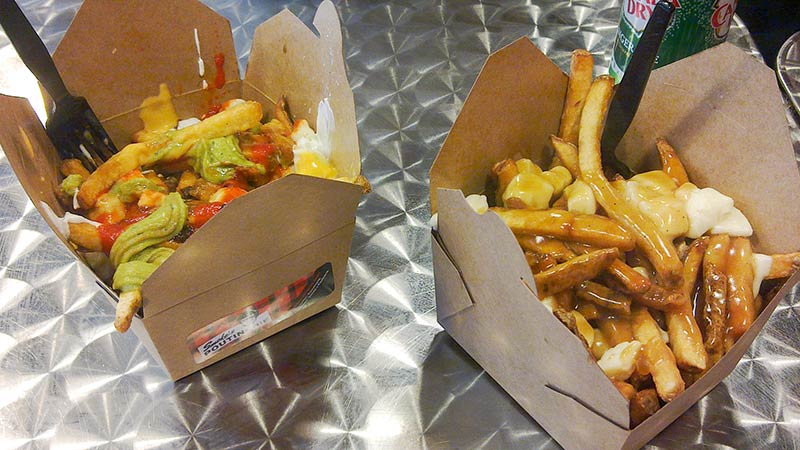 OK, being a fan of healthy cuisine from the entire world, I had quite some difficulties with the Poutine but I loved the markets there—bonus points here because they sell French cheese!—and the different communities having each their own suburb as the always present Chinatown swarming with Vietnamese, Japanese and other dim sum places. Yum. Not sure if I'll ever be able to live again in a city without good Asian restaurants.
My only disappointment after having been teased with it for days by my local friend is to not have found any place selling the famous beaver tails—not the actual tail of beavers but their pastry equivalent, a specialty around here. We tried hard though! We even went as far as to the Niagara Falls only to find out that the shop was closed.
Another thing that I kept hearing was to come back in summer for a better experience of the city. I can only be looking forward to do so!
San Francisco
Don't tell the customs but my main goal was to gear up a bit in electronics for the needs of my trip. I had to leave my film cameras back home and opt for a more portable solution, which is why I picked a Fuji X100S. I never had the chance to try one before so I solely had to trust the online reviews and cross my fingers.
But San Francisco was also a chance to visit another city in the USA. After having been not really pleased with both Honolulu and Los Angeles, I was told that SF could leave me with a better impression.
And this time, I indeed wouldn't be disappointed. Instead of the ridiculous Muscle Beach and other never ending boulevards lacking of any interest, I found myself walking in streets that had a nice vibe to them, packed with tons of cool little places to eat, and went through suburbs that each had their own identity.
I happily went on to climb all these famous roller coaster streets. Fortunately I enjoy walking uphill because I realized that a simple map is not enough in SF to deduce the most optimized route. It's in those situations that having a good knowledge of Grand Theft Auto can become handy.

I've been impressed by how much the nearby Silicon Valley had an impact on the number of entrepreneurs trying their luck with various projects. Or maybe is it the other way around?
What's sure is that either in the train or in coffee shops, many had their laptop open and were discussing about their startup, their ideas, the designs they were working on, or the softwares they were developing.
That's a lot of creativity going on within that tech–savvy bubble. No wonder why the few managing to emerge out of that fierce competition end up ruling over the world.
On the other side were the ones wandering in the streets and calling them "home". They were far from being only a few, it actually seemed more like an entire and vast community living in a parallel world where any interaction between both worlds were rare. A truly saddening sight.
As of Now...
I've just arrived in Antigua, Guatemala. I've got a cold and a sprained ankle.